If you plan to visit West Japan but wanted to venture out of the cities to other regions in Kansai for a short day trip. This pass will be a good recommendation for you, as it covers all the famous prefectures and some of the hidden gems in the Kansai area.
JR WEST-Kansai Wide Area Pass
Kansai Wide Area Pass is a 5-day pass, which covers up to the Tottori and Okayama. Here are some of the famous stops you can visit Himeji, Okayama-Kurashiki, Kinosaki Onsen and Tottori.
Update 2023
Now when we exchange the pass we will not be given a booklet however, it will be the ticket itself for us to slot in the gantry.
Where to buy 2023?
JR WEST- Station counter, online
JAPAN RAIL
Valid Period
5 days
Cost?
Update 2023
Adult
Online booking JR-WEST: 10,800 Yen
Other Travel Agency or 3rd party: 10,000 Yen
Child
Online booking JR-WEST: 5,400Yen
Other Travel Agency (Online Booking): 5,000 Yen
<<<Buy Your Pass with Klook>>>
<<<Buy your pass with KKDAY>>>
What is required?
Your passport and the confirmation letter that indicates you have purchased online. A voucher will be provided for exchange at the respective counter if you purchase from Klook or KKDAY.
Update 2023
Passport and your electronic voucher (eMCO) printed out or on your phone to show the counter staff to exchange your pass.
Where to exchange?
Confirmation email sent within 48 hours of purchase. Change your pass at Kyoto, Osaka, Shin- Osaka, and Kansai International Airport.
Please fill in your name, country and Passport number at the counter and present your passport to the staff at the counter.
Update 2023
An email will be sent out to you within 48 hours. Exchange of passes can be done at Shin-Osaka or any of the locations below:
We exchange our voucher to pass at the Shin-Osaka station:
To note:
From 2016, Kansai wide area pass is not required to enter through the side door aka MANNED GATE (Gate A). Kindly enter through AUTOMATED ticket gates (GATE B). To activate your pass insert your pass into the slot located above the green arrow on the fare gate. and don't forget to take back your ticket as you pass through.
Update 2023
Now we do not need to enter through the MANNED Gate. The pass can be slotted into the Automated ticket gate to activate the pass as you can see that once you slot in the ticket will have a small punched hole in the left corner.
Suggestion:
Update 2023
My suggestion is still the same buy from the travel agency even though I understand why some people would still prefer to purchase directly online do note that is an additional 800 Yen per ticket, however, you will be able to reserve your seats online. I felt that is really not necessary to pay the 800 Yen, as you should plan your long ride beforehand and is good practice to do so when you are at the counter you can reserve your seats already.
2015
Purchase your pass online, as it will cost lesser with the early bird special discount. Currently, Klook has the best deal compared with HIS by 2 dollars, as for JTB online sales will only be open, next year in March. Just to take note that if you are buying the pass from Klook you will have to exchange your voucher at HIS counter in Kansai Airport (KIX) and they will only be open from 08:30-22:00. If you reach Kansai airport earlier, you will have to wait. You may want to purchase online from the JR-WEST Website and exchange your pass at the ticket office which opens from 05:30-23:00.
Train route (Accessible)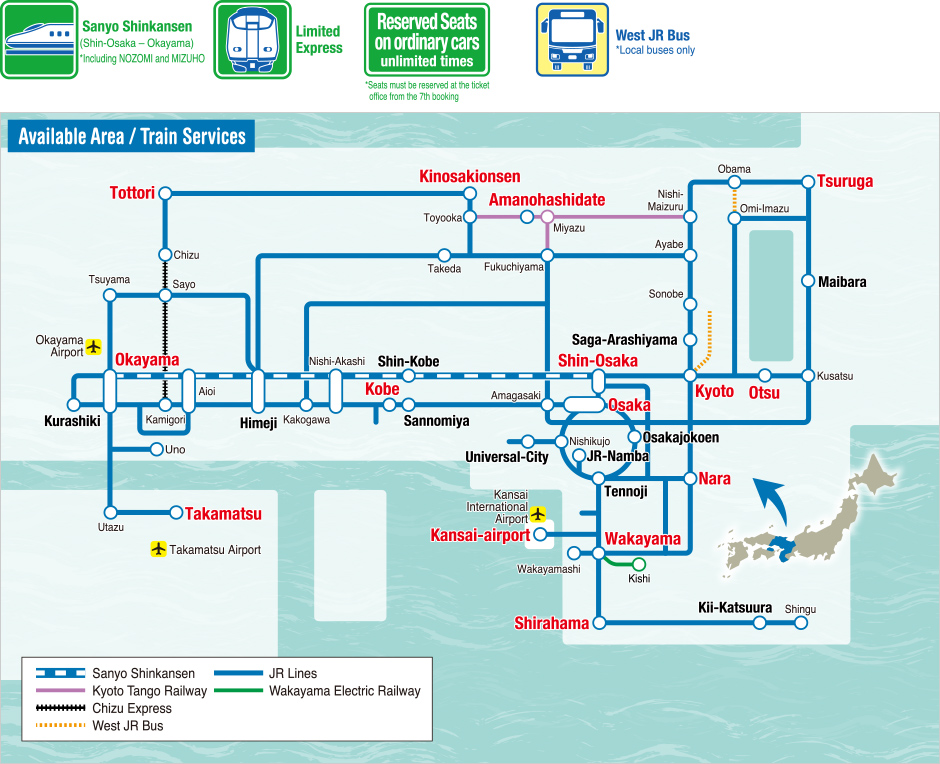 (Source: WEST JR)
Kansai WIDE Area Pass is valid for unlimited travel in the valid area on the map
· Valid trains are below;

– Reserved seats on Bullet Train "SANYO SHINKANSEN" (Shin-Osaka⇔Okayama)
· The pass can be used for the Hello Kitty Shinkansen.
– Reserved seats on Express Trains HARUKA, KUROSHIO, THUNDERBIRD, KOUNOTORI, SUPER HAKUTO, SUPER INABA, etc.
* The Limited Express KUROSHIO, KOUNOTORI, KINOSAKI, HASHIDATE, and MAIZURU trains are all reserved seating-only. Non-reserved seating is not available. Be sure to reserve seats in advance before boarding the train. Boarding the train without reserving seats in advance will result in a separate Limited Express reserved seat fee.
– Special Rapid Services, Rapid Services, and Local trains on JR-WEST Conventional lines

The pass is only valid on WEST JAPAN JR BUS route buses within the valid area. The pass cannot be used on expressway buses.
Do not board this bullet train, a separate fee is required:
TOKAIDO SHINKANSEN (Shin-Osaka↔Tokyo)
SANYO SHINKANSEN (Okayama↔Hakata)
KYUSHU SHINKANSEN (Hakata↔Kagoshima-Chuo)
The Special Rapid "A Seat" paid seating Service
Use and validity
The rail pass is available and usable all year round.
A rail pass is purchasable up to 1 month in advance of the first day of use.
* Reservations are accepted via JR-WEST ONLINE TRAIN RESERVATION up to one month before boarding (starting at 10:00 am (JST) on the same day of the preceding month).
Valid for consecutive days only
The validity of the rail pass starts from 24:00
Additional Information
 A rail pass is only valid for its rail pass holder only.
A passport must be carried when a rail pass is used and presented when a JR staff asks to.
A rail pass will not be reissued even if lost or stolen.
Conditions of use for a rail pass are stipulated by JR-WEST's carriage conditions and laws of Japan.
Conditions of use for an exchange order are stipulated by regulations and contracts of issuing companies.
If any discrepancies arise between the foreign language and Japanese versions of the carriage conditions, the Japanese version has precedence.
The information displayed (including prices) is current as of March 18, 2023, and is subject to change.
Print out the Booking confirmation e-mail/voucher and bring it to the pickup station to collect your rail pass.
<<<Buy Your Pass with Klook>>>
<<<Buy your pass with KKDAYS>>>
Tips:
For travellers who wish to visit Tottori from Osaka, do note that there are some restrictions from the past. Extra charges are applicable for SUPER HAKUTO (Kamigori⇔Tottori) and SUPER INABA (Kamigori⇔Tottori).
The below timetable will be one of the possible ways to get to Tottori and will not cost extra charges to you. Please note that this way will take you a long time to reach your destination:
How to make full use of the pass?
Update 2023:
Making use of the pass by taking at least 2 trip out from Osaka and it should be more than 45mins ride. Which is a few location where I would recommend, Kinosaki, Himeji, Okayama and Tottori. If you are planning on getting this pass this few location would be good to add into your itinerary.
2015
In order to make full use of the pass, it is better to travel a longer distance, for example, get on the "SANYO SHINKANSEN" (Nozomi or Mizuho) from Shin-Osaka to Okayama and/or Express Trains 'HARUKA, KUROSHIO, THUNDERBIRD, KOUNOTORI, SUPER HAKUTO (Kyoto↔Kamigori) etc.
If you are just planning to stay in Osaka and a day trip down to nearby cities like Kobe, Kyoto or Nara, this pass will not be suitable for you.
<<<Buy Your Pass with Klook>>>