Due to the increasing number of passengers from the overseas and increased amount of large baggage carried on board.  With the upcoming 2020 Tokyo Olympics and Paralympics, it is expected that the amount of luggage will increase further.
To ensure the security, safety and convenience of all passengers, Japan Railway Company has decided to come up with some safety measures by starting with the reservation service for the oversized baggage area.
Starting from 2020 May, passengers are required to reserve a seat with oversized baggage area when bringing luggage with overall dimensions of more than 160 cm/62 inches onto the Tokaido Shinkansen.
---
Where do we place the oversized baggage?
Seats at the last row of some cars are designated seats with an oversized baggage area.
Passengers seated in those reserved seats are able to utilize the space behind them (oversized baggage area) for their oversized baggage.
Non-reserved cars and some reserved cars do not have seats with an oversized baggage area.
*The space for the oversized baggage is shared by the 5 passengers, who have reserved seats with an oversized baggage area.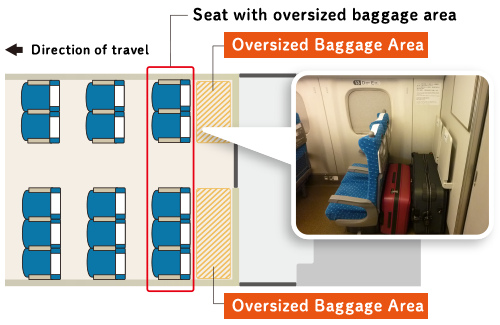 Source: JR-CENTRAL
What to do when travelling with oversized baggage (From 2020 May)
1. Reserve a seat with oversized baggage area before boarding.
You can reserve a seat with oversized baggage area via the Smart EX or Shinkansen Express Ride app, or at ticket offices in JR stations.
If you purchase your ticket at a ticket office, tell the station staff that you have oversized baggage with you.
2. Leave the oversized baggage in the oversized baggage area.
3. There are no changes to the rules regarding weight limits and the amount of baggage be changed.
You will still be allowed to carry on 2 pieces of luggage weighing less than 30 kg.
What is the oversized baggage?

Source: WESTJR
Baggage with overall dimensions between 160 cm and 250 cm.
With a reservation, you can secure space for your large baggage near your seat before boarding and because baggage space is located near the doors, you can board and alight from the trains smoothly.
If you did not make a reservation beforehand, you are required to pay 1,000JPY (incl tax) for the carry-on oversized baggage fee and also to move your oversized baggage to a space designated by the conductor.
*It is still possible to bring musical instruments, sports equipment, strollers and so on without a reservation, but after the implementation of this service, the space behind the last row is for the passengers in the last row.
What to do with baggage less than 160cm?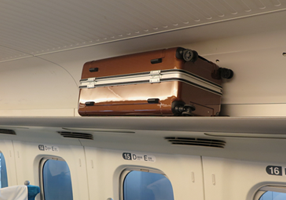 For overall dimensions less than 160 cm, you can place your baggage at the overhead baggage rack.
Which shinkansen line does it affect?
Tokaido, Sanyo and Kyushu Shinkansen, which connects Tokyo with Kyoto, Osaka and Kyushu.
Tokaido/Sanyo/Kyushu Shinkansen
Are there any other ways to get my baggage to my destination?
In my opinion,  if you want to get your baggage to the next destination, another way is to commute by bus or request for courier service which is quite common in Japan. Other than the 2 options, you can also choose to keep your oversized baggage at the hotel you are staying and collect the luggage when you are back. However, do check with the hotel if they can do so, and if there will be any charges incurred.
As of now, we are also not sure how this will affect the travellers who are holding onto the JR Pass and will only have more information in April 2020, how the reservation could be done. Nonetheless, travellers are advised to reserve storage space as early as possible.
Future plans for baggage storage space
Source: WESTJR
By 2023 Tokaido, Sanyo, and Kyushu shinkansen will be going through a revamp in their interior cabins.
Some of the toilets and sinks will be converted into lockable oversized baggage storage corners (Refer to the image shown above highlighted in blue).
Once the baggage is secured, passengers will need to authenticate using a number code and a unique card in order to take their baggage out.