This is a question I have received from my overseas friends when they are coming to our sunny island for a holiday. Since I have been doing research and answering their queries. Hence, I have made a comparison between our top 3 communication service provider. Hoping that this will be a little help to those coming to Singapore or in the midst of planning to come here for a holiday.
---
How to apply?
**Applicable for all telecommunication service provider**
Original copy of your passport OR any form of ID such as an ID card (S PASS, EP Etc.)
Location of Prepaid sim card Sales counters:
This is a compilation of the location for the different telecom sales counters at the airport.
Boxed in RED (Singtel; Changi Recommends), YELLOW  (Starhub; UOB Currency Exchange Counters/ Starhub counter)
**Image display only 24hours counter
Arrival Hall, Level 1, Terminal 1

Arrival Hall, Level 1, Terminal 2
Terminal 3
Terminal 4
**For more details, please scroll down for more information.**
---
Prepaid SIM card Singapore Provider
Singtel Hi Tourist Prepaid Card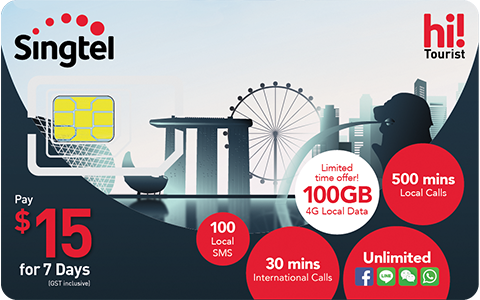 Cost+Plan
Singtel hi!Tourist SIM Card
hi!Card
Validity Plan
7 Days
10 Days
10 Days (2 User)
180 days
(extendable)
Preloaded Value
-
-
-
$38
Voice call (Local)
500 Mins
Unlimited
Unlimited
8~16 cents/mins
Voice call (International)
30 Mins
90 Mins
90 Mins
Depends on the country you are calling.
All calls are charged based on per minute block
Local SMS
100
Unlimited
Unlimited
5 cents per message
Data (Local)
100 GB
100 GB
100 GB
3 GB (Include Malaysia)

Data (FB, LINE, Wechat)
Unlimited
Unlimited
Unlimited
Data Roam (Malaysia, Indonesia, Australia)
-
2GB
5GB
Top up and add on value ( to do before expiry date )
$3 per Day to extent the validity period (maximum 30 Days)
Data valid for 30 days
(extendable)
Cost (SGD)
$15

$30

$50
$38
Where to buy?
Travelex
Changi Recommends **Only 38/$50 HI! SIMCARD available**
To note:
Fair usage of 1GB per day applies for free access to Facebook, WhatsApp, Line, WeChat
Unlimited Local Calls/SMS refer to 3000 Local Call minutes and 5000 Local SMS for 10 days.

4G 100GB local data offer is valid until 30 September 2018.
For more details of SingTel Plan, check here.
---
Starhub Travel Prepaid sim card
Cost+Plan
Starhub
Plan/Validity
7 Days
12 Days
180 Days
Data (Local)
100GB
100GB
100GB (Free 10 days)
Credit (SGD)
-
-
50
Talktime (Local)
500 Mins
3000 Mins
-
SMS (Local)
100
5000
-
IDD 018 Talktime* (Overseas)
30 Mins
90 Mins
-
Data Roam (Malaysia,
Thailand, Indonesia, Australia etc.)
1GB
3GB (**30Days)
5GB (**30 Days)
Cost (SGD)
$12

$32

$50
Purchase your sim card at klook or StarHub and collect at Changi Aiport.
Stored credit can be used for local/IDD calls, SMS and activation of more data plans and value-added services.

IDD 018 Talktime is applicable to all calls made from Singapore to all StarHub IDD 018 destinations.

Roaming data is applicable for use in all Happy Roam countries and destinations.
Where to buy?
Starhub Counter
UOB Currency Exchange
To note:
$50 Happy Prepaid SIM is only available at Changi Airport UOB Currency Exchange & and StarHub counters in Terminal 1, 2, 3 & 4.

Rate charges applicable if exceed the credit
Do not exceed the maximum 3 purchase per 1 username at any service provider in Singapore prior to making a pre-order.

$32 Travel SIM, 3GB roaming data is valid for 30 days.
For more STARHUB plan, check here.
---
M1 M-Card Prepaid SIM Card
Cost+Plan
| | | | |
| --- | --- | --- | --- |
| M1 | | | |
| Plan | 7 Days | 10 Days | 14 Days |
| Data (Local) | 100GB | 100GB | 100GB |
| Data Roam (Malaysia, Indonesia, Hong Kong , Macau, Taiwan) | - | 3GB | 5GB |
| Call (Local) | 500Mins | 3,000Mins | 3,000Mins |
| Local (SMS) | 100 | 5000 | 5000 |
| International Call | 20Mins | 50Mins | 50Mins |
| Cost (SGD) | $12 | $30 | $50 |
Where to buy?
Buy your $12 Prepaid Sim Card here and collect at the airport.
Changi Meet & Greet (Terminal 1 to 4 Arrival Halls (Public Area)) or Changi Recommends (Terminal 4, Arrival Halls (Public Area)). **Only 30/$50 Tourist SIM available**
Operating hour:
11:00-21:00 (Daily)
To note:
Currently, M1 has the best perks among the 3 telecommunication service provider. However, the downside is that they do not have it at the airport. To get the prepaid sim card you will have to head down to downtown or any convenience stores to get it.
My Suggestion?
Get the StarHub prepaid sim card, currently, they are having a promotion of 15GB for 5 Days. Do take note of the tariffs and other underlying charges. However, to be honest, since all 3 service provider price list is the same except for the perks they offer, it comes down to what kind of usage do you need more. Singapore telecommunication service is quite good and it doesn't matter which one you get.
Suggestion (2018):
Looking at the price and the perks of the 3 telecom company StarHub is still the best choice, and if your usage of Data is not heavy. With the 100GB FREE for 7 days is a great option for friends who are going to visit Malaysia for a short trip. As you only need to download the APP to activate the data roaming service, using it in Malaysia and Thailand can be a finger tap away.
Do not worry that you will excess your data here in Singapore, as we have quite a lot of places that provide FREE WIFI access.
Other Store Location:
---
FAQS
1) Why we are not able to find the SINGTEL $8 Hi! Sim card in your post, my friend has been telling me about it?
The reason being this post is for travellers wanting to purchase sim card inside Changi Airport and this particular sim card cannot be found in our airport. You will need to get to the retail shop to purchase it.
2) Singtel $8Hi! Sim card it is available at the airport?
No, it is not available at the airport. If you wish to purchase this sim card please head over to any of the Authorised Singtel Prepaid Retailers, Singtel Shops or Singtel Exclusive Retailers
3) I will reach Singapore at 4 am, can I get to purchase any sim card at the airport?
Yes, all sim card counter at the airport opens 24 hours. UOB Currency exchange counter (Starhub), Travelex Currency exchange counter (Singtel), Convenience stores Cheers (M1)

4) About the Starhub $12 Tourist sim card, 100GB local data and 1 GB overseas data it is separated or is the 1 GB included within the 100GB?
Yes, it is separated. You will be able to use 100GB within the validity period you have purchased and when you travel out of Singapore you will get to use the 1GB overseas. Remember to turn on your APN only when you reach the destination.
5) Why are you not listing all the prepaid plan that is from the telecommunication service providers?
My aim is to focus on travellers arriving in Singapore and those who wanted to get their sim card at the airport. Thus, I am unable to list down all of the sim card here.
6) I found that there is a difference in the cost of the sim card from the official website and yours, may I know is the plan you are showing here still valid?
You should follow the official website, as the telecom provider will keep changing their plan. For instance, the current plan that you are seeing, the $12 tourist sim card with 100GB, a few months ago it was still $15, 7GB.  I am thankful that my follower kept me updated, however, please understand that I am unable to keep track of all of their updates,
7) I do not need 100GB do you have a better option?
Yes, but these options cannot be found inside the airport. For example, SingTel have $8, $15 Hi! SIMCARD,1.5GB, 3GB; Starhub $8, $15 Happy Simcard, 800MB, 2.2GB, etc, There are too many to list and it can go on and on. *T&C Applies*
8) Which service provider is the best?
I have used all the 3 telecommunication service providers all of them have their pros and cons. In the end, it still goes down to which plan suits you the best and your budget.
**Little knowledge about the telecommunication system in Singapore**
All our Telecommunication Service provider has to follow certain rules and regulations set by IMDA our Singapore Government body. The prices, plan and usage of data are revised frequently and standardise throughout Singapore. If you start to see one of them changes their plan, the others will follow soon.