We had one free day in Amsterdam city, what are we going to do with it? Let's go to some of the more well-known attractions like the one that was shown here⇓ the I AMSTERDAM sign, a must for a photo shoot. As we couldn't fit in too many places to go in a day, we will only be visiting the Rijksmuseum and have a ride in the canal cruise, where we can see Amsterdam at a different eye level.
---
Rijksmuseum
The Rijksmuseum was known as the State Museum in English, a place where we could get to understand the Dutch history, art & culture.
Where?
How to get there?
Take Tram No.2,5 or 16  at the Centraal station and alight Rijksmuseum Stop.
From the Marnixstraat regional bus station: Tram 7 and 10 to Spiegelgracht tram stop, or bus 170, 172, 174 and 197 (Rijksmuseum bus stop)
From Schiphol Amsterdam Airport: bus 197 (Rijksmuseum bus stop)
To know more about transportation.
Operating hour
09:00 – 17:00
Cost:
We brought our ticket online,
Adult
17.50EUR
Youth
Age 18 and below are free
Duration:
1-2 hours
What to see?
Windmill cups:
The world most famous library which is right inside the museum:
Opening hours:
10:00 – 17:00
Closed on Sundays and public holidays
Enjoy the arts that are displayed here as we have a chance to understand more about the Dutch culture and the art. It is interesting and I love it. There are even chairs, where you could have a seat to look at the art pieces.  The museum can be quite crowded around 11:00 – 15:00, it would be nice to reach there early before the tour group arrives.
---
P.C. Hooftstraat shopping street
Before heading to the canal cruise, why not have a "short" walk here at the Amsterdam's most expensive shopping street and the No.3 world's nicest place to shop, the P.C. Hooftstraat. This is the paradise for shopaholic, ladies, and men out there too~
It was a pretty interesting sight for me, as this is the only street that has the Christmas decoration up while the other streets look so empty.
Where?

Duration:
1-2 hours
To be honest this place is a great place for shopping and hopping in and out of the shops you like. The not to be miss shop here would be the glass brick Chanel boutique.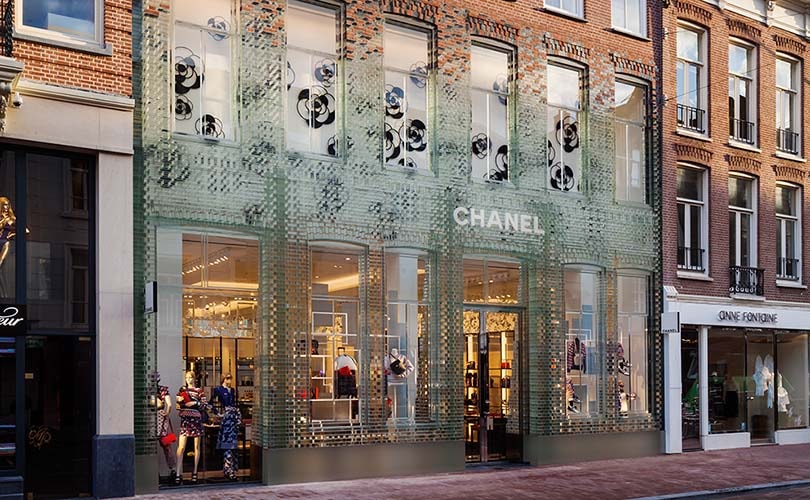 (Taken from fashionunited)
---
Canal Cruise in Amsterdam
Have a relaxing and fun way to see the city on a ride with blue boat company, as we cruise through the canal, passing through all the city's highlights.
Where?

Operating Hour
09:00 – 22:00 (Daily)
Duration:
75 Mins
Cost?
Buy your ticket online with discount:
Adult
14 EUR
Child (Age 5-12)
7.50 EUR
**To note that there will be a 3% credit card charge for each transaction.**
How much it will cost if you purchase on that day:
Our Cruise:
What to see?
Boathouse:
GVB Ferry that could bring you to other parts of Amsterdam city:
The 75 minutes was worth the money,  as we cruise through the canal we were guided by our audio guide who explains all the important city highlights and don't worry about not understanding cause it comes in 21 languages. The view was great and we were able to see Amsterdam city in a different angle.
---
Vondel Park
After the cruise ride, we had a walk at the Vondel park to enjoy a nice and peaceful evening before our dinner appointment nearby.
Where?

Cost:
Free
A beautiful place to relax and people watch,  rent a bicycle to have a ride here or be like us, just walk around, have a seat on the bench, talking to friends and family to pass time.
We ended our day walking and shopping around in the downtown of Amsterdam city. And head off to the restaurant nearby to have some local Dutch delicacy which we had made a reservation.